Home
Owen's Sidekick: SPOT, the Harlequin Great Dane
In the grand tradition of detective novels, the protagonists (the detectives) often have a sidekick. Sherlock Holmes had Dr. Watson, Nero Wolfe had Archie Goodwin, Travis McGee had Meyer, Spenser has Hawk.
Owen McKenna has Spot!
(Unfortunately, Spot will never hold still for a photo. So we've included some pictures of Spot's "cousins" who look like him.)
A Harlequin Great Dane with dozens of polka dots, Spot doesn't have the intellectual power of the more traditional detective sidekicks. In fact, as Owen sometimes thinks, Spot isn't even the smartest dog out there. But he more than makes up for it with his enthusiasm and size.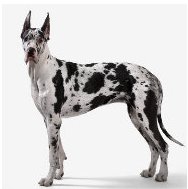 "Was that the microwave beeping? I like my Danishes nice and warm."