TESTIMONIALS
"Thank you for a great program. Several members stopped to say "great!!!" You are a great speaker, and we love the books."
-Rosalie Baker, Program Chair
Newcomers Club of Nevada County

Borg speaking to the American Association of University Women

"I would love to do this again next fall! Thanks Todd. You are the best!"

- Beth Delacour, Principal South Tahoe Middle School,
speaking about a workshop I taught to their 8th Graders

"Todd Borg is an accomplished writer whose writing is gripping and informative. His book talks are carefully crafted like his writing to keep the audience asking for more."

- Ellen Brow, Colusa County Librarian, Ret.

"Thanks so much for speaking to the Friends of the Library last night. I have never seen them so enthusiastic after a presentation. You really went the second mile! Was it really two hours that we grilled you on the intricacies of being a writer?"

- Ellen Brow

"What a pleasure it was to meet you. I and the whole audience enjoyed your talk very much on Wed. 4/28. It was a miserable day, what with the hail, rain and dark clouds but everyone who came out said they thought it was well worth getting wet.

You have a wonderful way of addressing a group of people and I think that is why your books appeal to so many no matter the age or gender. You connect to everyone so quickly with your easy and humorous delivery.

Thanks again so much,"

- Holly Bennett, Lake Wildwood Book Club

"Todd Borg answered our many questions about his writing experiences and shares pointers to aspiring writers. His answers are fresh, exciting, amusing, slightly revealing...but he doesn't give away the plot."

- Joan Young, member of AAUW, South Lake Tahoe Branch

"He was one of the best of our monthly speakers, ever!"

- Jean Benin, AAUW President, South Lake Tahoe Branch

"We all felt that you were terrific."

- Jerry Noosinow, The Gentlemen's Autochthonous Book Society

THANK YOU so very much for coming to Sierra Nevada College last night. Everyone I spoke to was very pleased to have attended. I truly enjoyed the event and you were certainly engaging and entertaining. Cheers, have a wonderful Thanksgiving and once again, THANK YOU!"

Susan Herron

"Thank you Todd Borg for helping to make our annual Wine for Words event such a great success! As our guest author, your presentation was fun, interesting and very informative. Your fans in Placerville are looking forward to many more thrillers with Owen McKenna & Spot."

- Barbara Parmenter, President, Placerville Friends of the Library

"Todd Borg speaks as well as he writes - fast-paced, articulate and highly entertaining."

- Bob Shields, The Gentlemen's Autochthonous Book Society

"Your presentation was excellent, and everyone thoroughly enjoyed it."

- Linda Roide, Osher Lifelong Learning Institute, University of Nevada, Reno

"It was a terrific talk. Todd Borg can be counted on for a breezy, agreeable talk to fit any audience. Generous with his time, and congenial with staff and new fans alike...we enjoyed a wonderful afternoon, first listening, then chatting with the author."

- Mary Jo Gohlke, Chavez Library, Stockton, CA

"Each and every presentation by this local Lake Tahoe author
draws large and appreciative audiences. It is apparent in both reading his fast-paced books and listening to his popular presentations, that Todd has indeed "done his homework." While the books are fictional, he adds wonderful localized references, background information on the subject at hand and occasional historical facts that add credibility and interest to keep the reader engaged. Not only engaged, but with enough variety that all await his next book featuring Owen McKenna and irrepressible Spot, a
Harlequin Great Dane."

Sherna Kopple-Svensson (retired Librarian)
Program co-chair, Friends of the Library South Lake Tahoe Public Library, El Dorado Co.

"Todd Borg's presentation was very enjoyable, informative and delivered with a great sense of humor."

- Toni Davis

"I, and the whole audience, enjoyed your talk very much on Wed. 4/28. You have a wonderful way of addressing a group of people and I think that is why your books appeal to so many no matter the age or gender. You connect to everyone so quickly with your easy and humorous delivery."

- H. Bennett
Audience assembling for Borg's Lake Wildwood talk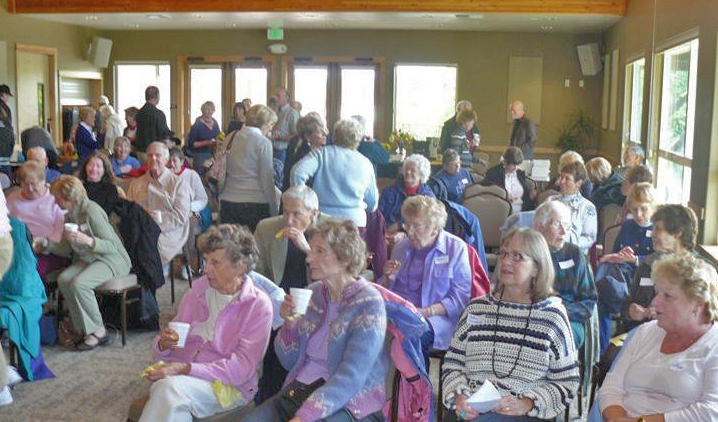 TESTIMONIALS
"Thanks so much for speaking at our Sisters In Crime meeting. That was definitely one of the best author presentations we've ever had. You really are an inspiration to new authors. I'm rewarding myself with an hour of "Tahoe Night" reading time although I know it will be almost impossible to drag myself away from your book and back to mine."
- Cindy Sample, Author of Dying For A Date
"Our Carson City Library Friends group had 70 people at our Annual Dinner Meeting largely because speaker Todd Borg was such a great draw. Members enjoyed hearing how Todd creates his characters using our own locale. That they could buy a copy to read as soon as they got home was added fun. I'm certain our annual meetings will be even more successful thanks to our great experience with Todd. Thanks again, Todd, for coming and being so gracious and professional."
- Carson City Friends of the Library
"Having read most of Owen McKenna's exciting mystery series, your presentation this past week was equally exciting. Our men's book club group really enjoyed your comments and considered it as one of the best in our years of author presentations."
- Bob Gaw, The Gentlemen's Autochthonous Book Society
"Thank you for including Todd Borg in your line-up of author presentations through the Library lecture series. Todd has been one of my favorite authors for years, not only because of the great mystery reads taking place in our beautiful surroundings, but also because of his charming personality. His lecture at the Library proved once again that Todd's own character is as captivating as Owen McKenna's - maybe even Spot's!"
- Zee McClintock
"On behalf of the El Dorado County Library and the Friends of the Library, I would like to express my gratitude for your participation in our Wine for Words benefit. I have received wonderful responses from our guests who found you to be charming, funny and approachable."
- Jeanne Amos, Library Director, El Dorado County Library
"We were most impressed by your depth of knowledge and experience regarding the art of mystery writing. Your speaking style is relaxed and engaging with enough humor to keep your audience in a good mood."
- Sam LeBarron, The Gentlemen's Autochthonous Book Society
"Thank you so much for speaking to us last night. The audience was enchanted with how you go about writing a book. And, they (and me especially) enjoyed understanding the character creations and development."
- Janet Asmann, The International Footprinters Association, Minden NV
"The kids were in awe, especially the sixth graders. They continued talking about your visit and some of the things they had learned about being creative and writing days after you were here."
- Jonell Fonderhide-Stumpp, Riverside Middle School
"Todd's easy going style and love of writing really came through in his talk at our library. Everyone enjoyed hearing how he came to write the Owen McKenna series and develop his characters in each of his books. Reading an excerpt from his latest book captured the audience and gave us just a taste of what is to come in his next installment. I can't wait to read the rest!"
- Laura Einstadter, Amador County Librarian
"People are still commenting on how much they enjoyed hearing the 'stories behind the stories' that you told."
- Rita Lovell, Markleeville, CA Alpine County Librarian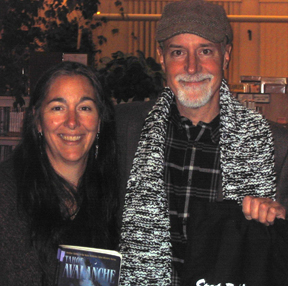 With Rita Lovell from the Markleeville Library, and wearing the handmade scarf that Laura Einstadter from the Jackson Library knit for me!! Note that she did it in "Spot's colors" !!
Borg is a frequent speaker and
would love to speak to your group
If you are looking for someone to anchor your event, conference, seminar or book club meeting, Borg is a frequent speaker. He talks on a variety of topics related to books including the life of a writer, the process of writing, publishing, and creativity. Borg also gives workshops on fiction writing and writing mysteries.
To inquire about availability and speaking/travel fees, please email todd@toddborg.com

Borg speaking at the Lake Tahoe Community College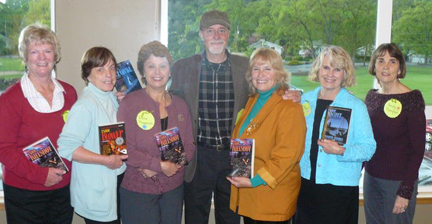 Lake Wildwood Book Club