To Purchase Books from Amazon, click on the covers.
HOW TO ORDER
Amazon is the easiest and cheapest way to get the books. Click on each title above to go to the appropriate page.
IF YOU'D LIKE SIGNED, PERSONALIZED BOOKS
Just email me at todd@toddborg.com .
Please tell me:
1) Which books you want
2) What names to sign and personalize them to.
3) What address to ship them to.
The books are $16.95 each, and we pay shipping and handling charges within the contiguous 48 states (If you live in California, please add 7.25% sales tax.)
I'll get back to you with an invoice and you can either send a check, or, if you want to use a credit card, I'll email you a PayPal invoice.
and a Bonus...
Purchase three books and I will send you a "SPOT ROCKS" canvas book bag, a $15.95 value, FREE. Purchase all fifteen books and get a free BLACK book bag and a free Epiphany T-Shirt. The bag is heavy weight, 10-ounce cotton canvas with square bottom and reinforced handles. The T-Shirt is an elegant long-sleeved cotton shirt with just enough Spandex to make it supple and smooth. The shirt comes in women's sizes S through XXL and men's sizes M through XL. Note that the men's shirt is a standard short-sleeved shirt with the same printing.
If you already have the books and just want to purchase "SPOT ROCKS" bag, you can do that as well. Heavy duty Canvas with logo is $15.95. The Epiphany T-Shirt is also available for purchase at $29.95
See the details to the right.
Signed, personalized books are great for your collection. And remember, these are all First Editions.
The Ultimate Personalized Gift
Better yet, signed, personalized books are ideal presents for everyone on your holiday gift list! Order them today and you will solve all of your holiday gift-buying problems and have one-of-a-kind gifts unlike anything else.
If you have questions, click here, todd@toddborg.com ,and fire away.
NEW! The Owen McKenna
"Epiphany T-Shirt"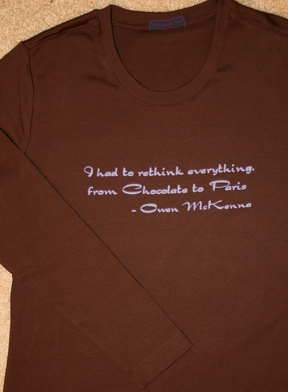 NOW AVAILABLE! The Owen McKenna T-Shirt, featuring a line that Owen says in TAHOE HEAT. This line is in reference to Owen's epiphany when he finally figures out the identity of the killer.

"I had to rethink everything,
from Chocolate to Paris."
- Owen McKenna

These beautiful, long sleeved T-Shirts come in chocolate brown with periwinkle script. They are top quality, smooth and soft, 96% cotton, 4% Spandex. They come in women's sizes S - XXL $29.95 and men's sizes M - XL, $29.95.

You can also get the Epiphany T-Shirt and and the Spot Rocks book bag FREE when you purchase all 15 books in the series, or a total of 15 books of any combination of titles. And as always, freight is free.)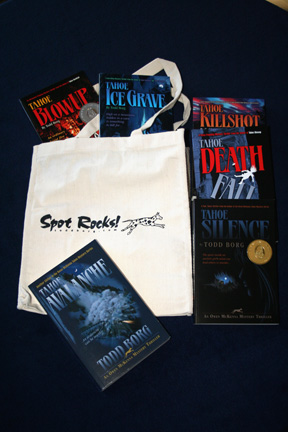 "Spot Rocks" Book Bag in natural color, now only available in BLACK.
A "Six-Pack" of Owen and Spot! (Now a 15-Pack.)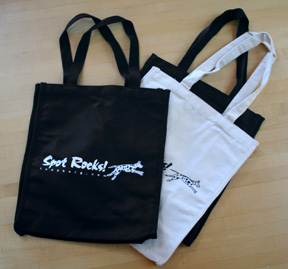 Note that the book bag is currently only available in black.