The Newest
Owen McKenna Mystery!
TAHOE GHOST BOAT
Published August, 2014
As of this writing in October, Tahoe Ghost Boat has been on Amazon's Private Investigator Bestseller List continuously!
(2 1/2 months and running!)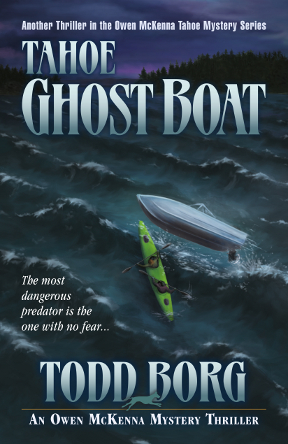 Gertie O'Leary is a 15-year-old girl with a messy bird's nest of red hair, a serious softball pitch, and a dream to be a movie director. She also has a $2 million price on her head.
When a gang led by a killer called Mikhailo The Monster takes Gertie as the centerpiece of an extortion plot, Gertie's mother calls Tahoe Detective Owen McKenna for help.
McKenna finds out the Gertie's stepfather has just died in what looks like a boating accident and that Gertie's mother cares more about not losing money to blackmail than saving her daughter.
As the unwanted child of divorced, self-focused parents, Gertie has no defenders. So McKenna appoints himself her savior. But McKenna is one man up against a small army of twisted murderers whose orders are to kill the girl...
Last year's novel
TAHOE CHASE was an immediate Amazon Bestseller and an
Amazon #1 "Hot New Release!"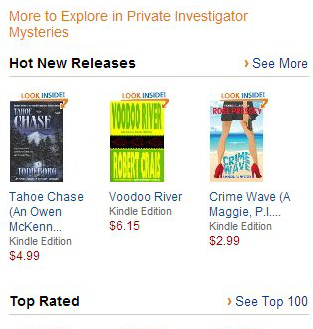 TAHOE CHASE spent several months on Amazon's "Private Investigator" Bestseller list!
.
"If you get the impression that I love these books, you would be correct. I've read four books in this eleven-book series. All four have been "Wow" books for me. I've never had this happen before, but oh, am I ever enjoying it."
Cathy Cole of the popular mystery blog Kittling: Books
1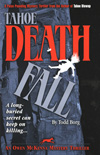 2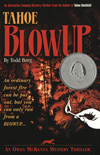 3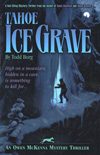 4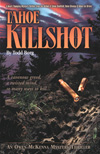 5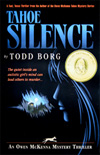 6
7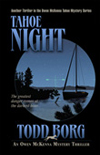 8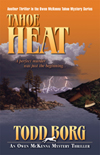 9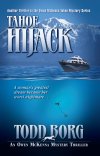 10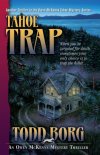 11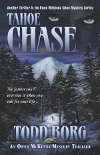 BORG'S AWARDS

Ben Franklin Award for Best Mystery of the Year (see below)
One of the Five Best Mysteries of the Year
- Library Journal
One of the Top Five Mysteries of the Year
- G. Wedgwood, Mystery News
Best Thriller of the Year
- Bay Area Independent Publishers Association
Best Mystery of the Year
- Bay Area Independent Publishers Association
Best New Fiction - Cincinnati Library
Starred (Rave) Reviews
- Library Journal, Midwest Book Review, Mystery News, Nevada Appeal, San Jose Mercury News and numerous other papers and magazines and websites
Amazon Mystery/Thriller Bestseller List
- Several of the Owen McKenna mysteries have made Amazon's bestseller list multiple times!

WONDERING WHERE TO
GET THE BOOKS IN TAHOE?

NORTH SHORE
Tahoe Biltmore Gift Shop, Crystal Bay
Geared For Games, Boatworks Mall, Tahoe City
MindPlay in Squaw Valley
The Gatekeeper's Museum, Tahoe City
The Potlatch, Incline Village

SOUTH SHORE
Red Hut at Ski Run Blvd
Lakeside Inn Gift Shop
Artifacts in the Raley's Village Center
Lakeside Landing
Cabin Fever at Ski Run Marina
Lake Tahoe Museum
Enchanted Florist at the "Y"
Camp Rich General Store
Valhalla at the Office in the Twin Cabins

TRUCKEE
Bookshelf at Hooligan Rocks

RENO
Sundance Books at California Ave
The Red Hut Cafe at Lakeside Dr and W. Moana

CARSON CITY
The Red Hut Cafe on 395

CARSON VALLEY / MINDEN
Shelby's Books in Minden

PLACERVILLE
El Dorado Arts Council Artspace Gallery

GRASS VALLEY
The Bookseller

MARKLEEVILLE
Art & Soul Gallery

***NEWS FOR FRANCOPHILES! ***

The French translation rights for TAHOE HIJACK were purchased by a publisher in Paris! The French version of Tahoe Hijack is now out in hardcover. The French title?

TAHOE L'ENLEVEMENT

Une Enquete Du Detective McKenna