Introducing the 16th
Owen McKenna Mystery
TAHOE SKYDROP!
Kirkus Reviews gave it a great writeup!
"Yes, Borg's books are thrillers first and foremost, with picturesque settings, but they're also educational as well. Having a thoughtful, inquisitive man such as Owen at their center enhances these volumes. And this latest outing is no exception. Another impressive case featuring a detective who remains not only dogged, but also reflective." - Kirkus Reviews
TAHOE SKYDROP
A Computer Genius Created A Startup Worth A Billion Dollars
Tahoe tech guru Yardley LaMotte had a vision for future robots that could transform the world. He started a company called Tahoe Robotics.
A Murderous Gang Wanted The Software
Twisted killers with ties to a Swedish prison gang figured out how to steal the software. All they needed was the key to unlock the computer code.
The Killers Kidnap A Child Who May Know The Password
A brilliant kid was in the classroom when the Tahoe Robotics founder visited a local school and talked about encruption. When that kid goes missing, the father contacts Tahoe Detective Owen McKenna.
McKenna Plans To Attack The Gang From The Sky
Wen McKenna learns that the kidnappers are hiding the kid at a mountaintop compound protected by armed guards, he plans to rescue the child by using a paraglider to drop out of the sky at night. But the plan goes horribly wrong. Unless McKenna and his Great DaneSpot can find the child, the child will die...
I ran an Amazon promotion on Tahoe Skydrop at Christmas. TAHOE SKYDROP shot to the top of the chart. SWEET!
Last year's McKenna got rave reviews and made several bestseller lists...
TAHOE PAYBACK
"An engrossing whodunit that should keep readers guessing through the final twist" - Kirkus Reviews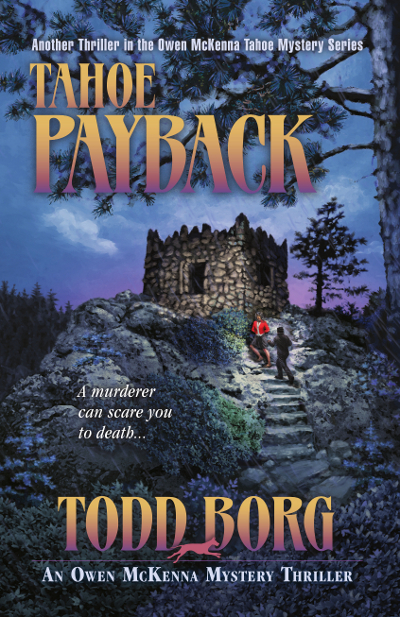 When a man tells Tahoe Detective Owen McKenna that his girlfriend disappeared, McKenna wonders if the woman got cold feet and ran away. But when she turns up murdered on Fannette Island with red roses in her mouth, McKenna discovers that she used a scam charity to steal millions. Meanwhile, Street's ex-con dad has jumped parole in Missouri, and she believes he is coming to punish her for her testimony that put him in prison decades before. Both Owen and Street are about to confront someone who wants them very dead...
Here's the full, great review that the prestigious Kirkus Reviews posted about Tahoe Payback:
A California private investigator and his Great Dane explore the seamy underside of charities. Philosophical sleuth Owen McKenna, aided largely by his dog, Spot, returns in this 15th volume of Borg's (Tahoe Dark, 2016, etc.) mystery/thriller series. When the novel opens, Owen already has a personal case on his plate. His girlfriend, scientific researcher Street Casey, is being stalked by her father, Tom, who has threatened to kill her for her testimony, which sent him to prison for a long stretch. Street has refused Owen's proffered protection, choosing instead to continue living on her own while learning self-defense techniques from him. But, having to pay the bills, Owen gets drawn into a new case involving charity scammers. The client is Douglas Fairbanks, whose parents obviously had a nasty sense of humor. The introverted, middle-aged millionaire wants Owen to find his missing, much-younger girlfriend, Isadore. The two get off to a rocky start when Owen questions Isadore's motives: "You are suggesting that the love of my life is a con artist, a thief?" Fairbanks asks. Owen's instincts prove correct after Isadora is found gruesomely murdered, as he discovers she earned millions off a fake charity. Soon three others connected to charity scams are similarly slain, and Owen is hunting a serial killer. All the while, he is preoccupied by the threat to Street. In Owen, a former San Francisco homicide detective, Borg has created a winning protagonist, both forthright and pragmatic. It's a treat to see how his mind works. Owen has a dedicated partner in Spot, whom he has trained as both a search and an attack dog and who becomes a central figure in this installment. More problematic is the damaged Street, whom Owen struggles to protect while respecting her wishes. The author has provided a diverse group of believable suspects, including the son of a charity's mark, a disabled artist, a forgetful scientist, and even Owen's own client. Borg effectively sets all this action against the colorful backdrop of Tahoe and its visitors and citizens. The result is an engrossing whodunit that should keep readers guessing through the final twist.
A worthy addition to a well-devised mystery/thriller series. - Kirkus Reviews

2016's book, TAHOE DARK, was a local and Amazon bestseller and received rave reviews.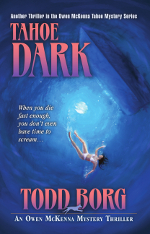 Here's what KIRKUS REVIEWS said about TAHOE DARK:

"ONCE AGAIN, BORG HITS ALL THE RIGHT NOTES FOR FANS OF CLASSIC DETECTIVE FICTION IN THE MOLD OF DASHIELL HAMMETT, RAYMOND CHANDLER, ROSS MACDONALD, AND ROBERT B. PARKER." -

Here's what the critics said about my previous novel, Tahoe Blue Fire.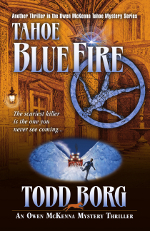 "A GRIPPING NARRATIVE...A HERO WHO WALKS CONFIDENTLY IN THE FOOTSTEPS OF SAM SPADE, PHILIP MARLOWE, AND LEW ARCHER." --Kirkus Reviews

"A THRILLING MYSTERY THAT IS DIFFICULT TO PUT DOWN...EDGE OF YOUR SEAT ACTION" - Elizabeth, Silver's Reviews


"TAHOE BLUE FIRE STARTS OUT WITH A BANG...AND HAS A SPECTACULAR ENDING" - J Bronder Book Reviews


"VERY ATMOSPHERIC, THIS IS ANOTHER EXCELLENT THRILLER BY TODD BORG" - Harvee Lau, Book Dilettante


"THIS READER HAS COME TO CARE DEEPLY FOR THESE CHARACTERS" - Cathy Cole, Kittling:Books


"TENSION-FILLED AND FULL OF SURPRISE" - Gloria Sinibaldi, Sierra Sun

My novels for 2014 and 2015,TAHOE GHOST BOAT and TAHOE BLUE FIRE, were immediate Amazon Bestsellers and stayed on Amazon's Private Investigator bestseller lists for months.

The novel the year before, TAHOE CHASE, was chosen as Amazon's #1 "Hot New Release!"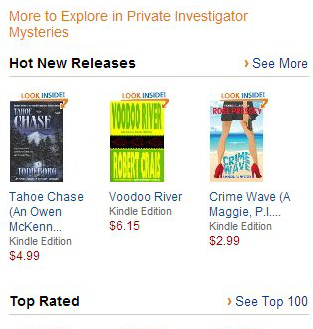 TAHOE CHASE also spent many months on Amazon's "Private Investigator" Bestseller list!

.

Cool news: The National Geographic has featured my books on their Sierra Nevada Geotourism website! Click this graphic to see the page:

"If you get the impression that I love these books, you would be correct. I've read four books in this series. All four have been "Wow" books for me. I've never had this happen before, but oh, am I ever enjoying it."
Cathy Cole of the popular mystery blog Kittling: Books
16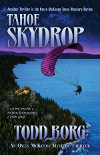 BORG'S AWARDS

Ben Franklin Award for Best Mystery of the Year (see below)
One of the Five Best Mysteries of the Year
- Library Journal
One of the Top Five Mysteries of the Year
- G. Wedgwood, Mystery News
Best Thriller of the Year
- Bay Area Independent Publishers Association
Best Mystery of the Year
- Bay Area Independent Publishers Association
Best New Fiction - Cincinnati Library
Starred (Rave) Reviews
- Library Journal, Midwest Book Review, Mystery News, Nevada Appeal, San Jose Mercury News and numerous other papers and magazines and websites
Amazon Mystery/Thriller Bestseller List
- Thehe Owen McKenna mysteries have spent countless weeks on Amazon's bestseller list!

WONDERING WHERE TO
GET THE BOOKS IN TAHOE?

NORTH SHORE
Tahoe Biltmore Gift Shop, Crystal Bay
Geared For Games, Boatworks Mall, Tahoe City
MindPlay in Squaw Valley
The Gatekeeper's Museum, Tahoe City
The Potlatch, Incline Village

SOUTH SHORE
Red Hut at Ski Run Blvd
Lakeside Inn Gift Shop
Artifacts in the Raley's Village Center
Lakeside Landing
Cabin Fever at Ski Run Marina
Lake Tahoe Museum
Camp Rich General Store


TRUCKEE
Word After Word Bookstore

RENO
Sundance Books at California Ave
Grassroots at Grove St

CARSON CITY
The Red Hut Cafe on 395


CARSON VALLEY / MINDEN
Shelby's Books in Minden

GRASS VALLEY
The Bookseller

SACRAMENTO
Time Tested Books
1114 21st Street

***NEWS FOR FRANCOPHILES! ***

The French translation rights for TAHOE HIJACK were purchased by a publisher in Paris! The French version of Tahoe Hijack is now out in hardcover. The French title?

TAHOE L'ENLEVEMENT

Une Enquete Du Detective McKenna